The Consciousness of Art
In the art philosophy that Safiuddin Ahmed believed in, drawing was never considered a facile task. From the very beginning of his life, it seemed to him that it is not possible to become an artist by taking the art form lightly. As a result, he never created art just for art's sake.
He never moonshined, never left a gap in this work. He found a profound relationship between drawing and joy it brought. He believed when the artist feels the joy it automatically gets transcended to its viewers. It was almost proven when he liked his own work; they were later appreciated by others as well.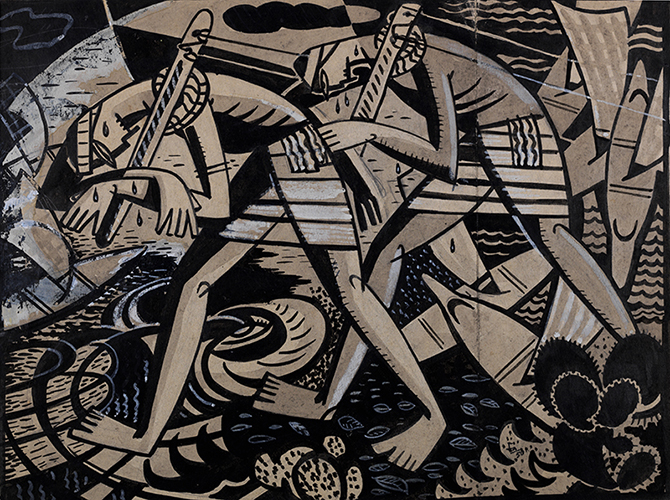 Safiuddin Ahmed's tendency towards cleanliness was inherited via his parents, music practice, love for music, interest in knowledge, discipline that had profound effect in shaping his artistic taste. Along with that, his interest in sports and swimming, hunting, rearing foreign dogs manifested his civic taste, and his wisdom was apparent in his drawings. These urbanite concepts, advanced artistic style and philosophical tradition of the Calcutta Art School brought a strong inclination and commitment towards art. It also instilled a determination in him to the pursuit of art. The thirst for art gave birth to the zeal of ubiquitous practicing inside him. This thirst has drawn him out of the studio, even out of Kolkata. Through this practice, he realised the magnificence of nature; the sense of composition and better sense of perspective in him matured through the process. As he visited Dumka, he did not get close to nature but his soul was awakened. As a result, he highlighted the vast perspective of nature in the small aperture of drawing. Expressing vastness within a confined space became a key feature of his work.
After being uprooted from his birthplace in 1947 and building a new settlement in Dhaka, he faced a new situation and saw the nature and public life of East Bengal with a new perspective. The distinction between the two Bengals was apparent to him. While he observed the grayness of nature across the border, on this part of the Bengal here he saw the boldness of bluish green. Initially he found it hard trying to combine blue and green. To comprehend the colour of nature of East Bengal, he roamed around Pagla area on his cycle for long. It took him several years to mix the blue and green to bring the desired colour. His perseverance is evident in the precision of using blue and green in his oil paintings. He was introduced to the flood of this area–with net, fish and boats. He saw diversity in rural life. During this period, the features of folk traditions dominated his canvas.
In the fifties, the commitment to folk art added a new dimension in the history of painting in Bangladesh. Modern painting was heavily influenced by the folk tradition. Safiuddin Ahmed was aware about this new genre. However, he did directly absorb the color, line and element of the folk art; instead, he took inspiration and created a language and added a new commentary in this genre. He has a bunch of sketches in the style of folk art, such as: Guntana 1 and 3 (1950, 1951), Mach-dhora (1950); Dampati (1950), Behalabadoksoho Chad petano -1 (1950) and Kathmistri (oil painting, 1956) etc was noteworthy. Without directly recreating the folkart, he explored the technique in a realistic frame, and that is what makes him unique. Experimentation with medium was also a feature of his practice. He focused in two mediums throughout his practice–sketch and oil painting. For other mediums, he discontinued after a short period of practice. For example, after his regular student life, he no longer drew pictures through watercolor. He had begun wood-engraving during his student life which continues till he went to London. While studying in a teaching course in Kolkata, he used Drypoint, then never again. He also practiced lithography and mural painting for coursework, but later he did not show any interest in it. It was the same time he composed paintings in aquatint. He continued that even after coming to Dhaka. After going to London in 1958 he received higher education in etching,aquatint, soft ground, lift ground, deep etch etc.and created paintings by mixing these mediums. He learned another new medium in London– copper-engraving. He abandoned wood-engraving, and took up this new medium. His printing practice began with wood-engraving and ended with copper-engraving. A notable feature of his artistic journey is that at one stage he did not find an interest to practice with some mediums; for some medium did not consider himself worthy; after making considerable progress in some medium he felt that he had nothing more to give so he gave up; and for some he indulged himself deeply over a long period of time, explored the potential of that medium and propagated it through tireless experimentation and practice. It is important to mention that while working with copper-engraving medium, he realised the influence modern creator of this medium, Heather in his works, for example:"Guntana' , 1958. Then he refrained from practicing this medium for a long time. He consciously did not want any influence in his drawings. After two decades when he resumed working on this medium, the images had a completely different dimension in form and quality. Notable works of this episode are: Kanna(1970), Ekushey Smarane(198), Ekattarer Smriti (198) and Ekattarer Smarane; (2002).
Before moving to London, Safiuddin Ahmed's works were focused on figurative drawings. Although he tried to break the structure, he could not redefine it. After moving to London, he broke the forms figure to the extent that it completely lost its known form. In this way he committed himself to the modern trend in world art in the middle of the twentieth century. As a result, many unfamiliar images came to the painting ground. His art took on a whole new form with the widespread use of symbols and metaphors. At the same time, he was engaged in various experiments of techniques. In addition to fine lines, he experimented with the goal of creating thicker lines in print.
In every point of printmaking, Safiuddin Ahmed's lines demonstrated strong momentum. His subtle fineness and subtle firmness helped to create the kinetics. For a long time, the fine lines dominated his print. In place of this fine line. During 1962 he started using thicker lines. As a result, his prints before 1962 and post '62 look different. His earlier practice with thick lines were not actually lines, but various ranges (spaces) created by aquatint. These spaces were blackened with the granular properties of aquatint, which have taken the form of much thicker lines. During 1962, his conscious practice of creating thicker lines was in etching. These thick lines were made by making pits on the plate by treating it with acid. This was a new experiment for him. In that year, the two artworks titled "Fishing Time'-1 and 2 through Etching-Aquatint were significant.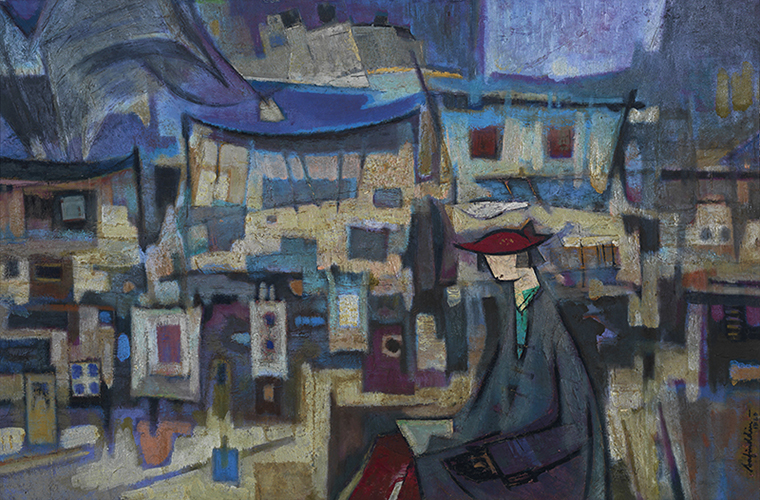 The London education initiated the change in the subject matter and technique of his paintings, so taking support in metaphors and symbols were inevitable. This trend continued in the post independent time as well. During this time, the "eye" became an important symbol in his paintings. In the sixties, the appearance of fish and the rim of boats were expressed in the form of eyes in his works. The fish's eye titled "Bikkhubdho Fish' ; (1964) in protest of his aging self. All these were scattered images. But in the eighties, he directly used 'eye' as a motif in– Kanna ;Ekushey Smarane ; Ekattarer Smriti ; and later Ekattarer Smarane a set of copper-plated media artworks that express a new form or expression of the eye. The works were testimonies of the memory of the barbaric strike of the Pakistani army in Dhaka city that he had witnessed. He used the various expressions of the eyes to illustrate the situation in these paintings. He also painted the sad eyes of a woman in an oil painting and symbolising the horrific and tragic situation including the torture and oppression of 1971.
Through various experiments in etching, aquatint, metal-engraving medium he created all his noteworthy paintings. The most successful example of this experiment is his work entitled The Sound of Water (1975). In creation, he used almost all mediums altogether in his printing. He took the idea from the orchestra. Hundreds of people play musical instruments together in the orchestra. The melody that sometimes becomes very high, sometimes it goes down into a very subtle pit, overwhelmed with sadness. Taking inspiration from this playful concept and capture to conversation, he planned to create an image using all the mediums. In this way, as a result of three years of endeavour, 'Jaler Ninad' was created, where he used etching, aquatint, sugar aquatint, mezzotint, lift ground, engraving, deep etch, dry point etc.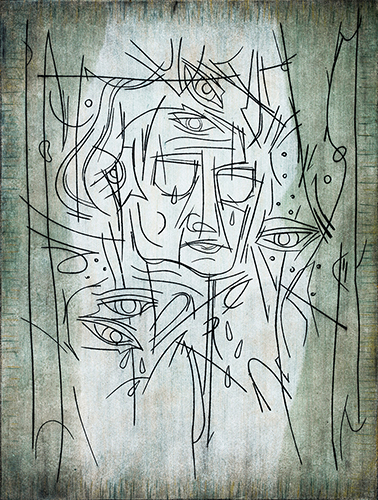 Since his student days, Artist Safiuddin Ahmed had a weakness towards black. He considered black as king of colour. It seems difficult for him to seize this colour. As a result, he went to Sealdah station in Kolkata many times at night in the thirties and forties to practice and tame black. He gained experience with this colour while working with wood-engraving. When he went to London, his fascination and curiosity towards black remained intact. He seeked help from his teachers to master the colour black. In this perspective, he uses a variety of blacks through etching-aquatint. His mind however was not satisfied with this practice of black. For more than three years in the nineties, he worked tirelessly to create a set of sketches, through the use of black. It was only towards the end of the career he showed some satisfaction of mastering this colour. He named these images 'Black Series'. In these paintings we can observe a sense of accomplishment in the use of black colour. One may ask, why this bias towards black? Why such diligence? Has such an interest in black been created in his subconscious mind by the formula of struggle of his own life? Was it just the love for the colour? The artist himself did not know the answer. Since Safiuddin Ahmed is always engaged in hard pursuits, to engage in such a difficult task such as mastering black seems to be befitting with his nature. Moreover, it is only for the presence of the dark that we can appreciate light. Perhaps it is for the desire of light that the austerities of black occured.
This desire for light became more evident in his use of the visualisation of the sun in many of his works. The imagery of the sun, necessarily or otherwise used in various paintings seems to fulfill the craving of the unconscious mind of the artist. His thoughts on life, prosperity and trust on mankind were clearly composed in his works.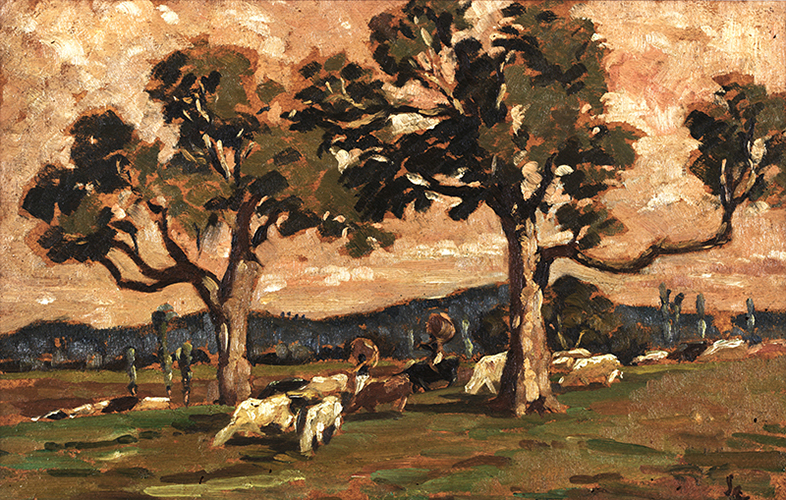 Although the subject matter or metaphor-symbol give Safiuddin Ahmed's artwork a deeper meaning however they are overshadowed by his skill of construction technique and creative style. His extended concentration and long focus on both print and oil painting has been evident. He spent a lot of hours making a plate of prints or drawing an oil painting. His method was to make as many sketches beforehand and pick the draft of his choice from it and start working on the main work. When he started working on plates or canvas and would not look at sketches anymore. Like other artists, he got some benefits by drawing on canvas. They exchanged a conversation with the canvas. If the artist added some new ideas to the canvas, the canvas would accept it. In other words, while working, the canvas and the artist would always create something new, which is absolutely unimaginable.
He has also shown success in inter-medium experiments. That is, he has applied the features of one medium to the image of another medium fluently and successfully. For example, he has highlighted the features of print and oil painting in line drawing.
The fine lines of etching, the dynamic curved lines of engraving, the poetic melody of dry points that specified in his line drawings, the fine granular properties of the aquatint, the coated smoothness of the various layers of oil paint, have enriched the texture. As the varied lines of the printmaking have diversified the texture of the oil painting, the fine-grains of the aquatint have made the surface of the oil painting attractive. He transferred the qualities of engraving onto his oil paintings. The texture of oil painting often enriched to quality of his prints.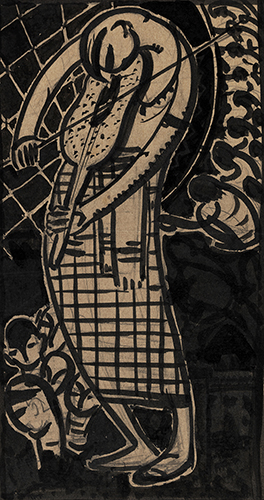 However, despite the extensive stylistic experimentation in his work, it is not entirely based on techniques; the subjects and creativity play an equal role. About this he said: What I long for in my work is for beauty. At the same time, it is also for an advanced technique. My intention is to bring the technical side to perfection. The real work is to apply the technique creatively". He correctly pointed that an image can't gain its meaning without the richness of imagination. He believed the work needed to be beautiful and at the same time rich in style, but should not be all about techniques. There are many works that are just technically sound, Safiuddin Ahmed's work does not fall in that category.
Another important aspect of his images is the presence of context, whether clear or obscure, is noticeable in all his paintings. The subject matter expressed itself in the planning of the work itself. The ideas of these subjects initiate from the elements of the country. From this aspect this work can be considered realistic. He wanted to touch the soul of the country in acquiring subjects such as– struggles of life, the beauty of Bihars, Dumka, its nature and the Santhal-life, as well as elements like floods, nets, fish, boats, storms, etc. in Dhaka-period, the subjects of his images were various faces of the working class people of the capital. Besides the farmers of East Bengal like the fishermen, boatmen, the laborious mass of the urban space like the Sorbet vendor, peanut seller, fruit vendor, fabric seller, labours, carpenters, potters, oilmen took the space on his subjects. He also closely observed the struggling political-cultural lifestyle of this country. The struggle during the Language Movement of '52, to the nine month long Liberation war of 1971- he narrated the narrated history through various forms and shapes in his works.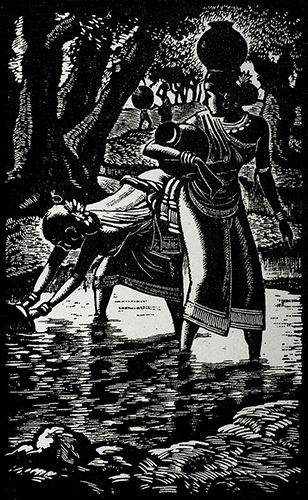 He was a patriotic. He always intended to portray the country and its people. The strong rootedness with his country and culture can be observed in the series of Dumka. However, this patriotism does not make him a sloganist, it appeals to a deeper sense of the essence of life. a combination of technique and concept mixing styles of east and west he created a sense of harmony. He thinks, "Our heritage and culture is very rich. But the West has made a lot of technical improvements." That is why he absorbed their technique deeply. In terms of content, he has captured the history, heritage and culture of the country in detail. He has successfully embellished his art world by mastering all the essence of modernity of world art.
We shall conclude by quoting Safiuddin Ahmed. He said: 'My wish is to be able to work until the last day of his life. I do not want anything else. No house, no car, no money, no fame. I did not have temptation in all of this. I just want to be able to paint. I have always tried to outdo myself. I have tried to offer something new, something good–the day that stops, as an artist that would be my death. Then there is no point in surviving after that." These are the words of a true artist. I do not know the definition of a great artist, but if we learn his take on life and creation, if we take a deeper look at his works, the meaning would be clear.
Art historian and Art critic Professor Syed Azizul Huq, Chairman, Bangla Department, University of Dhaka
Translated by: Noshin Shamma and Priyanka Chowdhury
Edited by: Priyanka Chowdhury