Lithography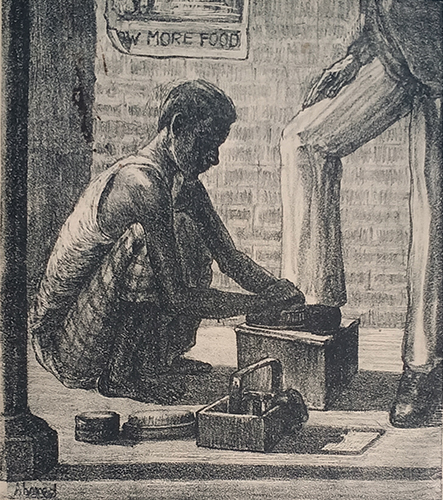 In 1942, Shilpaguru Safiuddin Ahmed completed his six years art school course from the Department of Fine Arts. In July of the same year he joined the Teachersship course.
This time he chose the print department. In 1943 due to the famine, his education was disrupted. He re-entered in the course in 1944 and completed it within two years. During the course he learnt wood engraving, lithography, mural painting, etching and dry point. Although we find some of his work during that time but there were no example of his lithography or mural painting. Recently a lithography has been discovered from archived papers.
The lithography titled 'Jutay Kali Kora' or Polishing the Shoe mentions that it was done during his first year of hid course from which we can assume the year of creation to be around 1944. The realistic approach of the work portrays his craftsmanship. His mastery of light and shade is evident in this work as well. He however did not work further in this medium and yet this discovery shall remain significant in learning about the artist and his work.
Art historian and Art critic Professor Syed Azizul Huq, Chairman, Bangla Department, University of Dhaka
Translated by: Noshin Shamma and Priyanka Chowdhury
Edited by: Priyanka Chowdhury